Welcome to THEME WEEKLY. IT"S NOT A RATING COMMUNiTY! ZING! See, I'm rather sick of rating communities. There are a few good ones but most of them SUCK. And alot of people mainly join them to participate in themes. Sooo, TADA. I made a community for only themes. I think this idea is GREAT but not many people have heard of theme_weekly so I can only BEG of you to please, PLEASE, promote us. In an entry, In your info, In a community, ANYWHERE. I'll bake you a cookie. (::) <-- cookie.

LINKAGE ENTRIES
INFO
MEMORIES
CALENDAR
JOIN
POST

MODS

OWNER; CREATOR:

ALEX AAY
Contact:
Email- alexaay@broken-jaw.net
Screen name- Wait and clarify

MOD:
Notifications;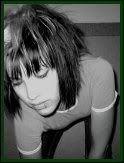 CASSIE
Contact:
Email- N/a
Screen name- OH recklesss




RULES
There a few simple rules.
oo1. Lj-cut all pictures.
oo2. BE NICE. No "rating" like comments. You don't need to be beautiful to take beautiful pictures.
oo3. Comment with your picture you wish to enter in the contest in the appropriate thread. If you choose to want to share this with others you may ALSO post it as an entry. But make sure its on the contest entry as a comment also.
oo4. Make the subject entry in your post either "theme" or "no theme" if you're posting something not for the theme that you want to share.
oo5. Promote your ass off. Period.
006. Love the mods.
007. Have fun, duh kids.
THEME
This weeks theme is
TRADITION
Please comment with your themed picture...
HERE.
SPOTLIGHT!
The last winners were;
oo1.
sendme2thestars
oo2.
hauntedhouses
oo3.
_modern_
oo4.
gc4ljoel
oo5.
dijaeatyet